Spacer fabrics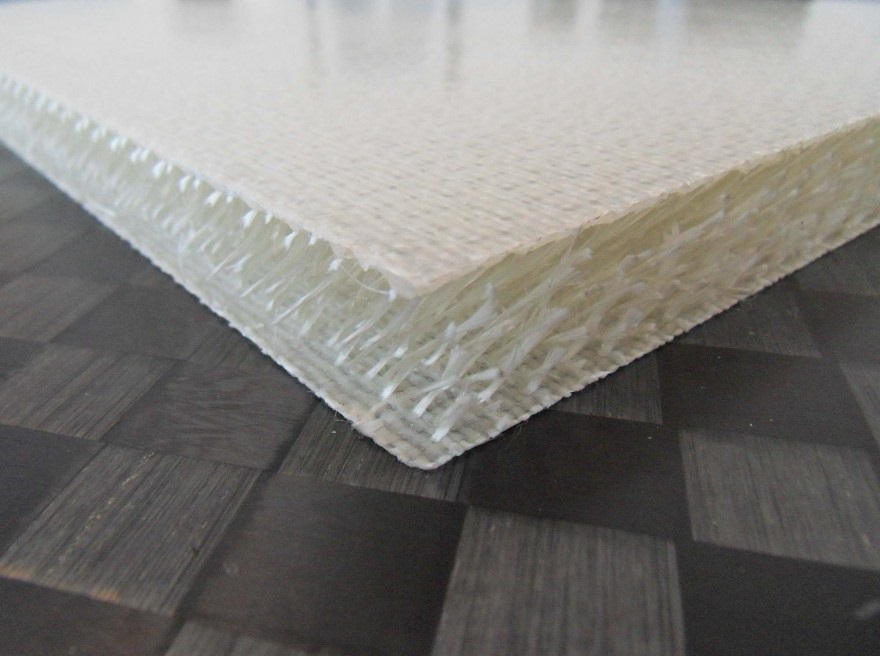 Parabeam 3D fabrics consist of two fabric layers of e-glass held apart at a distance of 3.5-22 mm by spacer threads.
After impregnation with resin they expand to the specified depth without additional materials. This makes it very easy to produce sandwich laminates.
Simple processing
Good draping in complex moulds
Easy to produce lips, but no accurate cutting and chamfering of edges as required with foam.
Simple transfer of force: component edges and force transmission points are easily pressed together into a solid laminate using an auxiliary mould.
No vacuum or additional adhesive resin required
The hollow spaces in the spacer fabric laminate can be filled with media, making it very easy to produce heatable moulds.
| Style | Nominal thickness [mm] | Areal weight [g/m²] | Width [cm] | Roll length [m] |
| --- | --- | --- | --- | --- |
| ParaTank 3 | 3 | 755 | 63,5 / 127 | 47,25 |
| ParaGlass 3 | 3 | 780 | 127 | 39,4 |
| ParaTank 4.5 | 4,5 | 845 | 63,5 / 127 | 47,25 |
| ParaGlass 5 | 5 | 840 | 127 | 39,4 |
| ParaTank 6 | 6 | 905 | 63,5 / 127 | 47,25 |
| ParaGlass 8 | 8 | 930 | 127 | 39,4 |
| ParaGlass 10 | 10 | 1430 | 127 | 39,4 |
| ParaGlass 12 | 12 | 1500 | 127 | 39,4 |